We're the voice of the Australian property industry.
As the leading advocate for Australia's largest industry, we champion a strong, thriving sector that leaves a positive legacy for all Australians.
We are your strong voice. Representing the leaders of the largest industry and biggest employer in Australia, we work with our 2,300 company and business member organisations to advance our industry's representation, reputation and impact. 
A thriving property industry underpins the health and sustainability of our cities, boosts consumer confidence, enables a buoyant business environment and ultimately creates a more prosperous Australia.
Our industry creates and builds the places where people live, work, connect, learn and play. 
Contributing 13 per cent of Australia's GDP, property is the nation's largest industry, but it also enables hundreds of other industries to thrive.
From logistics, manufacturing and mining to our small businesses, offices, shops and cafes, property is the backbone of Australia's economy.
Every day, our industry provides jobs for more than 1.4 million Australians – more than mining and manufacturing combined. 
Through our three-year strategy, we are working with members, allies, and all tiers of government to realise the enormous potential of this extraordinary industry, and our great capital and regional cities.
We have a rich, proud history of delivering outcomes that improve the lives of all Australians and create places for all stages of life, from students to retirees. We are privileged to lead the sector and connect the industry to speak with a strong, united voice.
Mike Zorbas 
Chief Executive
Our industry campaigns
The Property Council produces campaigns and thought leadership to build support for ideas that will move the industry forward. Here's a snapshot of some of our most significant industry campaigns.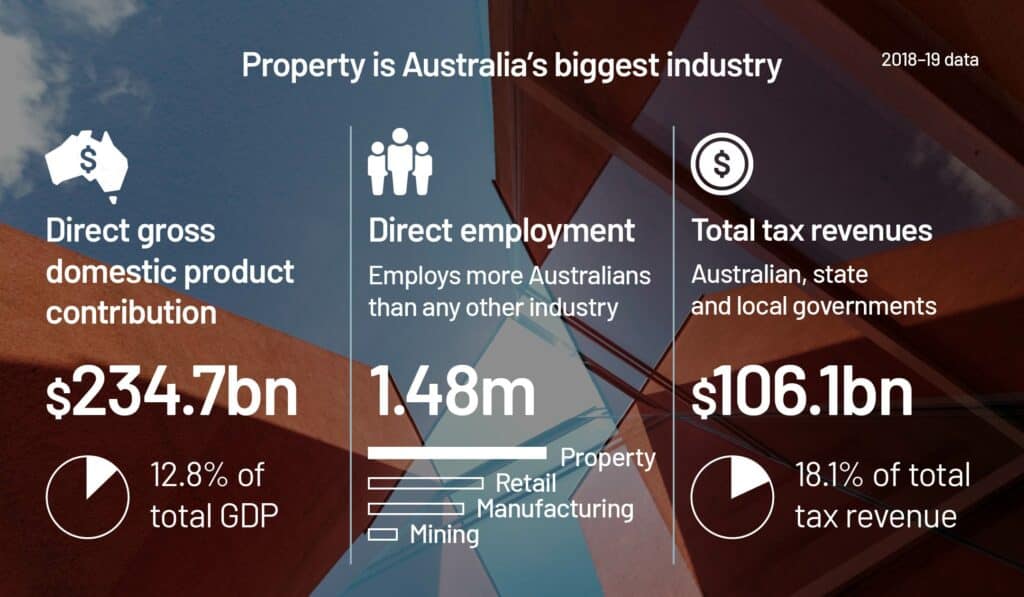 Upcoming Events
From wherever you sit in the industry, our events program has something for you. We bring together the brightest minds and experts from Australia and around the world to generate important conversations, share ideas and help you build relationships with industry peers.
2023 Annual Queensland Christmas Lunch + After Party

Brisbane Convention and Exhibition Centre

South Brisbane, QLD

Annual Christmas Lunch

The Fullerton Hotel

Sydney, NSW

SA: Christmas Lunch

Morphettville Racecourse

Morphettville, SA

Housing Policy – Your questions answered

Zinc at Federation Square

Melbourne, VIC

Hunter Future Directions Twilight Bowls Tournament

Mereweather Bowling Club

Newcastle, NSW

WA Christmas Party 2023

Christmas Lunch

Palladium at Crown

Southbank, VIC

Hunter Christmas Lunch

2023 Annual NT Christmas Party

Mindil Beach Casino Resort

Darwin, NT

Office Market Report

The Fullerton Hotel

Sydney, NSW

ACT Office Market Report

Hotel Realm

Canberra, ACT

Queensland: Office Market Report

Hilton Hotel

Brisbane, QLD

SA: February Office Market Report Breakfast

Flinders University, Festival Tower

Adelaide, SA

Victorian Office Market Report

Office Market Report – WA

The ANZAC Club WA

Perth, WA

Hunter Outlook

Retail Outlook

The Fullerton Hotel

Sydney, NSW

Outlook Lunch

The Fullerton Hotel

Sydney, NSW

Property Market Outlook

Brisbane Convention and Exhibition Centre

South Brisbane, QLD

Western Sydney Outlook

Rosehill Gardens

Rosehill, NSW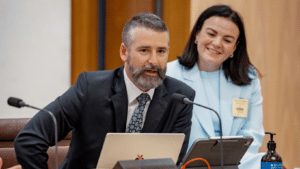 It is the final full week of parliamentary sitting in Canberra.
Read More
The Student Accommodation Council has cautioned against short-term thought-bubbles like a proposed tax on international students, as Australia considers how to overcome a multi-decade housing supply deficit.
Read More
The Property Council of Australia has today backed the NSW Government's move to facilitate more dual occupancies, terraces, townhouses and mid-rise apartments near stations and town centres through the creation of a new State Environmental Planning Policy (SEPP).
Read More
A new report has revealed Australians living in retirement villages are helping save taxpayers almost $1 billion in health care costs by delaying their entry into aged care.  
Read More
The Property Council of Australia is calling on the NSW Government to release the State's revised housing targets alongside the National Housing Accord reform package following today's announcement that the Greater Cities Commission (GCC) will be disbanded under new legislation to be introduced to Parliament today.
Read More
The Champions of Change Coalition Annual Impact Report has revealed Australia's property CEOs have made significant strides in advancing gender equality and implementing measures to address sexual harassment in the traditionally male-dominated industry.
Read More
The Property Council has applauded the Queensland Government's decision to pass the Body Corporate and Community Management and Other Legislation Amendment Bill 2023 which will enshrine a new strata termination threshold of 75 per cent for uneconomical community title schemes – a reform that has been championed by the Property Council for over a decade.
Read More
The Retirement Living Council is urging South Australia's Planning Commission to prioritise the state's ageing population when crafting its new Greater Adelaide Regional Plan (GARP).
Read More
The Claremont Hotel, the team behind Karrinyup Shopping Centre and property leader Adrian Fini were among the winners of the WA Property Awards on Saturday night.  
Read More
Today the ACT Legislative Assembly has debated on the new Territory Plan that will come into effect from November 27 and the Government has provided further tax incentives to stimulate the uptake of their policy.
Read More
The 2023 GRESB benchmark for sustainable real estate confirms that Australia is developing and delivering the world's greenest buildings.
Read More
Divisions
The Property Council operates under a national model with regional Divisions in every state and territory. We also have four specialist Divisions dedicated to advocating on specific industry sectors: Capital Markets, Residential Development, Retirement Living and Student Accommodation.
Find our more about our Divisions below.
Not a member yet?
We represent the interests of more than 2,300 member companies and welcome membership from organisations of any size and interest in the property industry.
Find out how you can join us and access the benefits for your people today.