500 Women in Property helps our members promote female talent and empower women to advance in the workforce. An initiative of the Property Council's Diversity, Equity and Inclusion Committees, the program aims to accelerate more women into leadership positions in the property industry, through sponsorship of high-potential talent. 
With more than 3,600 women having participated since its launch in 2016, the highly successful program involves a personal commitment from sponsors (women and men) to identify and champion women in their organisation or network who would benefit from exposure and professional development opportunities. 
Sponsors advocate for their nominees in the workplace and help build their network and profile, leading to positive development outcomes.
The capacity for the program is 500 participants (plus their sponsors) annually.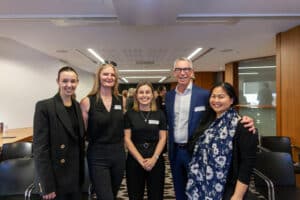 WA
"Your journey is unique" and "do it your way" was Rebecca Field's message to the 500 Women in Property 2023 Wrap Up event.
View More »
Partners
We would like to thank and acknowledge The GPT Group as the National Program Sponsor, and MinterEllison our Event Partner for supporting the extraordinary growth of the program over the last eight years.