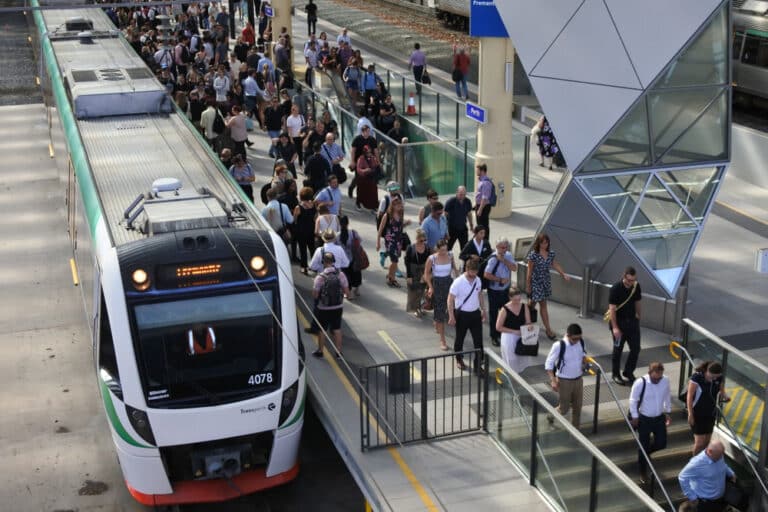 The Property Council has unveiled the top five priority locations for transit-oriented development (TOD) in Perth, accompanied by key recommendations to support their success.
The comprehensive study, titled "Transit Precincts: Perth, Get Onboard," prepared in collaboration with Taylor Burrell Barnett and SMEC, identifies Leederville, Cottesloe, Maylands, Bayswater, and Burswood as the premier locations for transformative transit-oriented development.
Assessed and scored against multiple factors such as housing, movement, amenities, employment, and urban ecology, each location emerged as a standout choice for a TOD.
According to the report, for a TOD to be successful it needs integrated urban land use and transport planning, a rich diversity of uses, sensible scale and density while reducing the primacy of cars and maximising connectivity to public transport.
Other measures include support for increased sustainability and liveability, avoiding expanses of open parking areas, prioritises the experience of residents and visitors and that any TOD is embraced by the community.
Sandra Brewer, Executive Director of Property Council WA, said the report emphasises the importance of constructing housing and amenities around existing public transport systems to accommodate population growth and meet residents' preferences for desirable suburbs.
"Transit-oriented developments play a critical role in improving connectivity, boosting public transport usage, and providing diverse housing options, ultimately enhancing affordability for all," Ms Brewer said.
"It comes as no surprise that locations like Leederville and Maylands, surrounded by high-quality amenities, are the preferred choices for transit-oriented developments.
"These vibrant mixed-use precincts offer convenient access to public transport, activity centres, parks, and open spaces," she said.
To further advance TODs, the report calls for greater collaboration among all levels of government. A comprehensive, whole-of-government approach is crucial to align visions and build upon recent state announcements aimed at improving planning systems. The report also suggests exploring financial incentives to attract property investors to TOD projects.
"The value of TODs lies not in their quantity but in their quality. High value, mixed-use development provides the greater area with an urban precinct with a strong residential, commercial, and/or retail hub is eminently desirable for many residents within a 5km radius," Ms Brewer said.
"TODs play a critical role in shaping and enhancing suburbs. The delivery of TODs will improve connectivity in suburbs, increase public transport use and create diverse housing options, making housing more affordable overall," Ms Brewer concluded.
The report also identifies additional stations where TODs could thrive, including Stirling, Glendalough, West Leederville, Claremont, Cannington, Cockburn Central, and Fremantle.
Nathan Blackburne, Managing Director at Cedar Woods said TODs are crucial in creating vibrant mixed-use precincts that lift the liveability and amenity of our suburbs.
"Buyers are increasingly prioritising connectivity when deciding where to buy property and being well located in relation to public transport is important, especially for apartment buyers," he said.
"The convenience of being able to walk to a train station improves lifestyle and liveability and accordingly these dwellings tend to experience better capital growth over time.
"TODs provide access to existing local amenities and public transport, reducing residents' reliance on cars, increasing walkability and alternative transport like bicycles or e-scooters that are all important sustainability considerations that discerning buyers are factoring into their purchasing decisions.
"TODs also create communities with diverse housing options, appealing to first home buyers, downsizers and single-person households, all within well-established locations."