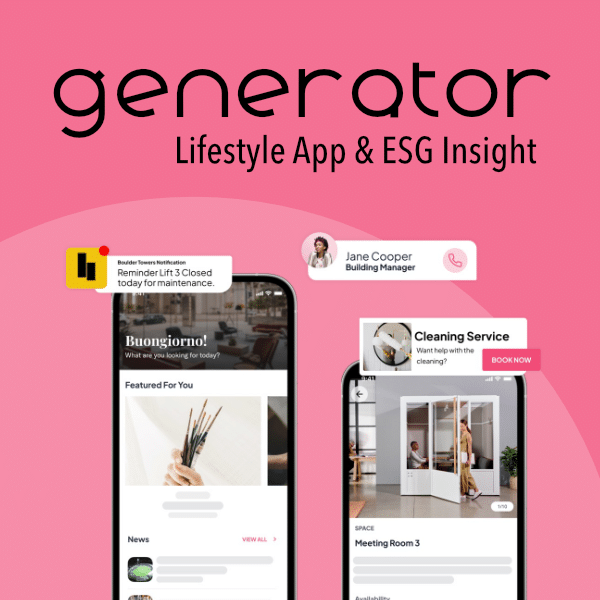 Australia's seniors living sector is witnessing a tech revolution, and at the forefront stands generator, with a keen eye on enhancing resident experiences and championing sustainability, generator is changing the game for seniors living.
The star of the show? generator's Lifestyle App, designed with a deep understanding of the unique needs of seniors, this app empowers residents by offering a comprehensive range of features tailored to their unique needs.
With the Lifestyle App, residents can effortlessly access the community events, resident services and experiences, community updates, maintenance requests and more. 
But it doesn't stop there; it's also a game-changer for sales managers, keeping sales prospects engaged and simplifying the onboarding process for new residents.
In addition, generator presents "Insight", a smart ESG (environmental, social, and governance) monitoring solution. 
This tool helps retirement village operators reach their sustainability goals and reduce their environmental footprint through real-time data collection and analysis. 
It enables communities to proactively manage resources, trim energy consumption, and embrace socially responsible practices while adhering to regulatory standards.
Elliott, the CEO of generator, is excited about the positive impact generator's technology is having, commenting, saying "it's revolutionising how residents interact, making their lives easier and more enjoyable".
These innovations are already in action at retirement villages and land lease communities across Australia.
generator is unwavering in its commitment to collaborating with retirement village and land lease operators, industry consultants, and stakeholders. 
Their mission: to drive positive change and ensure the well-being of residents.
For more details about generator visit www.generatortech.com.au or contact [email protected].
About generator:
generator leads the charge in technology solutions for Australia's Seniors Living sector. With their Lifestyle App and Insight solution, generator is transforming Seniors Living communities into vibrant, connected, and environmentally conscious spaces.