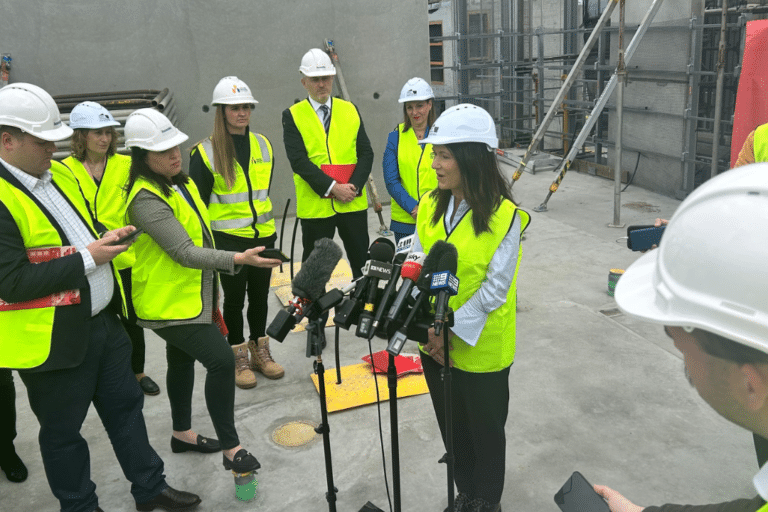 The recent housing statement by the Victorian Government, unveiled last week, outlines an ambitious goal for addressing the housing needs in Victoria.
The objective is to construct 2.24 million new homes by the year 2051, along with an annual target of 80,000 new homes for the coming decade.
Considering Victoria's projected population to surpass 10 million by 2051, the housing statement aims to support the construction of an extra 25,000 homes annually, in addition to the standard yearly housing output in Victoria.
The statement is organised into five sections, each containing various initiatives aimed at bolstering housing availability across all market segments.
There is a lot in the document, so let's cut right to the chase and break down the major announcements in each chapter. 
Good decisions, made faster
Housing developments surpassing a $50 million development cost within metropolitan Melbourne or $15 million in regional Victoria will have enhanced access to a streamlined Development Facilitation Process (DFP).
This process is committed to reducing application timeframes to four months and removing third-party appeal rights to VCAT (Victorian Civil and Administrative Tribunal).
To qualify for the DFP, projects must incorporate a minimum of 10 per cent affordable housing or alternatively, provide a three per cent allocation of housing stock as a full gift or an equivalent cash contribution to the Social Housing Growth Fund.
In the case of build-to-rent projects, the 10 per cent requirement can be achieved through an agreed-upon percentage of housing stock rented at discounted market rates.
Standard planning channels will remain accessible for projects that do not include the affordable housing component.
Ten strategic activity centers will be designated, subject to new state-driven planning controls, influencing building heights and residential land upzoning in nearby easily accessible areas. The objective is to promote higher housing density and accelerate approval processes. Incentives like density bonuses may also be offered to encourage affordable housing.
The government's goal is to provide an additional 60,000 homes within these 10 centers, situated in Broadmeadows, Camberwell Junction, Chadstone, Epping, Frankston, Moorabbin, Niddrie (Keilor Road), North Essendon, Preston (High Street) and Ringwood.
This initiative complements the existing priority precinct program covering Arden, Docklands, Fishermans Bend, Footscray, East Werribee, Parkville and Sunshine.
A new Department of Transport and Planning unit will be created to resolve delays in about 1,400 long-standing projects at the council level, utilising call-in powers when necessary.
Dwellings on lots above 300 sqm won't need a permit unless there's an overlay. Those below 300 sqm will get VicSmart approval within 10 days. Permit exemptions for granny flats, second dwellings on blocks under 60 sqm and shed/carport extensions will be introduced.
Cheaper Housing, Closer to Where You Work
Additional projects up to $200 million will be revealed under the Growth Areas Public Transport Fund, while another $200 million will be assigned to the Building New Communities Fund for growth area councils and state agencies. Submissions for funding will be invited by the end of October.
Surplus and underutilised land across Development Victoria, Level Crossing Removal Project, and VicTrack pipelines will create space for around 9,200 new homes. Seven development-ready demonstration sites will be overseen by the Department of Premier and Cabinet.
The government land program will target up to 10 per cent for social and affordable housing, considering density increases, subsidies, and discounted land.
A 7.5 per cent short-stay accommodation levy will be imposed on booking platforms, directing all proceeds to Homes Victoria (25 per cent benefiting regional Victoria). Local council charges for short-stay accommodation will be replaced by this state levy.
Additionally, an extra $500 million will be released from the Victorian Homebuyer Fund, the shared equity scheme initiated in 2021.
Protecting Renters' Rights
Rental providers are restricted from raising rent beyond the previous agreement's level after giving an end-of-first-fixed-term notice to vacate. If they issue a new lease after eviction, the rent must remain the same for at least 12 months. However, standard rent increases are allowed if the tenant remains.
Additional changes include tighter restrictions on rental bidding, limiting offers above advertised rent or more than four weeks' rent in advance. Rental Dispute Resolution Victoria will mediate disputes between renters, agents and landlords.
The notice periods for vacating and rent increase are extended to 90 days. Other changes encompass a portable rental bond scheme, mandatory training for real estate professionals, increased penalties for law-breaking agents, standardised rental application forms and a tenancy support grants package.
More Social Housing
To bolster the provision of social housing, several initiatives have been introduced or reaffirmed on top of the Big Housing Build program, including:
An intention to retire and redevelop all 44 of Melbourne's high rise public housing estates by 2051, starting with towers in Flemington, North Melbourne and Carlton
The provision of 769 dwellings through the Federal Government's Social Housing Accelerator program
The $1 billion of investment in the Affordable Housing Investment Partnerships initiative, where developers, community housing providers, banks and financial institutions can access low-interest loans to finance social and affordable housing
Exploring the acquisition of off-the-plan dwellings in private medium and high-density developments to boost social housing stock
Initiating an Expression of Interest to gauge the market's interest in head leasing surplus apartments in development projects, aimed at expanding and improving social housing availability.
Long Term Housing Plan
The 'Plan for Victoria,' an updated version of 'Plan Melbourne,' will be open for consultation soon.
Furthermore, there's a commitment to a thorough review of the Victorian Planning and Environment Act. The goal is to define timeframes, roles, and responsibilities clearly and possibly explore specialised legislation for major projects and precincts.