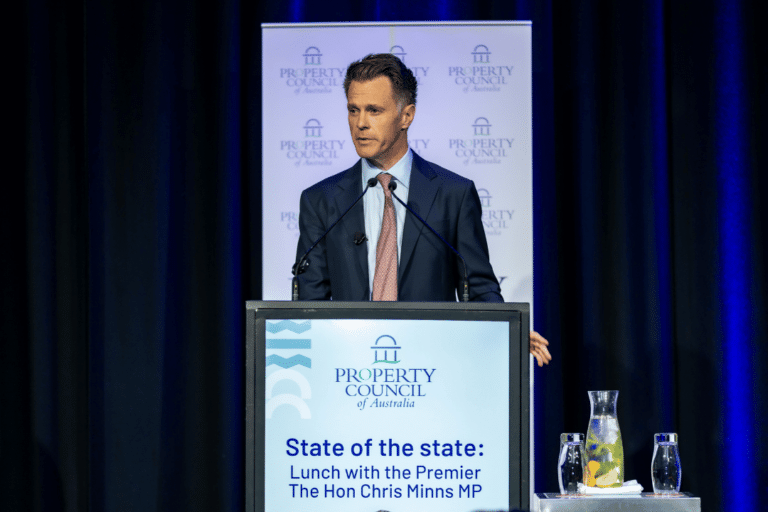 NSW Premier Chris Minns said his government intends to shift focus from demonising developers to commending innovative constructions as a means to accelerate housing supply during a Property Council lunch.
Inquired about the possibility of the government intervening to authorise new developments—the so-called "nuclear option", Mr Minns said he was keeping all options open if councils didn't meet approval goals.
"We've got the powers inside the NSW Government…to enact reforms to pursue housing targets and completions in various parts of the state," he said.
"We don't need any enabling legislation to make that happen. And there's a balancing act if we don't intervene; if councils, in particular, don't meet their challenges.
"In fact, we've been creating, I've been creating, a political space to make those reform changes by the end of the year."
The premier said the housing crisis had altered the dynamics of development, leaning towards higher density.
"The politics of this is changing rapidly in favour of more density," he said.
"And the leading reason for that is that renters make up 2 million voters in NSW. That's a massive chunk of the voting base that's up for grabs.
"About half the NIMBYs we're never going to get back. They're just allergic to change, and they don't want to change their views. And about half are up for grabs," he said.
Mr Minns said the government would emphasise the importance of "density done well" and promote inventive and imaginative initiatives.
"My sense is that my planning minister and myself have been the first, for a long time, that have come along and said, 'we need more density, we need more housing closer to the city'," he said.
"It hasn't won us a lot of friends in a lot of councils closer to the CBD, but it's necessary for Sydney's growth.
"We'll be highlighting density done well, we'll get behind innovative and creative developers and builders and laud their work. We will work hard to build public confidence as the work you do is crucial for our city and for our state."
In the budget released last month, the government dedicated $2.2 billion for housing. This funding includes $1.9 billion for constructing essential infrastructure like roads, parks, sewers and schools.
The remaining $300 million was designated for Landcom, the government's land and property development branch, to construct approximately 4,700 new homes, with 30 per cent of them being designated as affordable housing.