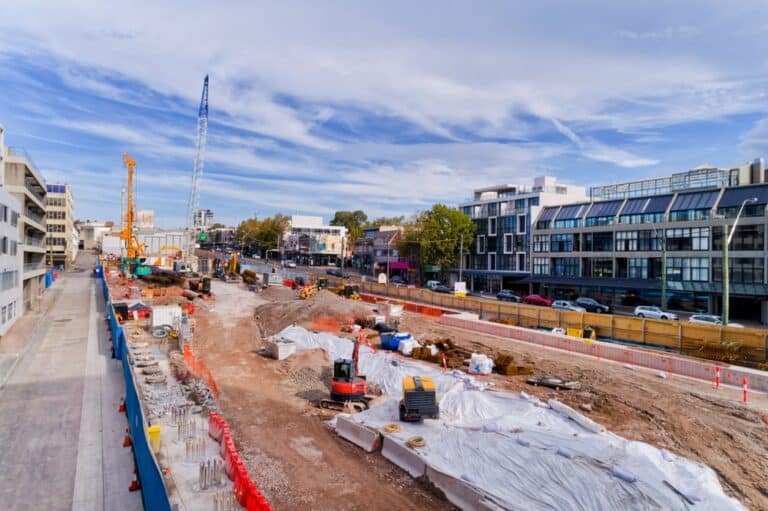 The Reserve Bank of Australia has cautioned that government-funded infrastructure projects are vying for tradespeople and construction supplies.
"Some firms report the need to compete with infrastructure projects for materials and labour inputs," the RBA said in a note.
"Buyer sentiment for off-the-plan purchases remains weak. Conditions are more favourable for build-to-rent and student accommodation projects, underpinned by strong population growth (including the recovery in international student numbers) and growth in housing rents.
"Firms involved in infrastructure and other larger construction projects are reporting strong demand and a substantial pipeline of work. While some large road and rail projects are due to finish towards the end of 2024, there is a growing number of projects related to the renewable energy transition. 
"Firms have noted that demand is exceeding available capacity across the non-residential construction sector; this is keeping materials and contractor costs elevated, which is flowing through to firms' pricing."
The central bank noted that companies involved in constructing standalone residential properties continue to remain busy as they navigate through a significant accumulation of work that has developed over the past few years.
"Supply chains, upstream costs and labour availability are improving which is helping to support profitability, though there are lingering concerns around financial conditions in parts of the industry. 
"Builders and developers generally expect slower residential construction activity in 2024 in the wake of declining home sales over the past year or so."
It came as the Australian Government released its Infrastructure Policy Statement to guide the Commonwealth's funding of properly planned and targeted infrastructure.
Minister for Infrastructure Catherine King Anthony Albanese said the statement commits the government to delivering nationally significant infrastructure that meet certain criteria.  
This criterion includes that projects must possess a combination of the following elements to be considered: an Australian Government contribution amounting to a minimum of $250 million, adherence to the government's outlined Infrastructure Policy Statement, location within or connection to the National Land Transport Network or other significant freight routes and support for emerging or broader national priorities like housing or critical minerals.
"We are reshaping how the Commonwealth funds projects, returning to a preference of 50:50 funding with the states and territories for future investments, so both levels of government carry an equal share of both the benefits and the risks," Ms King said.
"This will mean the Commonwealth's infrastructure spend – which is being maintained at $120 billion – can go further, maximising the benefits of the Commonwealth's investment and ensuring shared accountability.
"We also want to share the benefits of construction. We will seek to encourage local employment and procurement, as well as increase the participation of women, First Nations communities and other marginalised groups in the delivery of these projects."