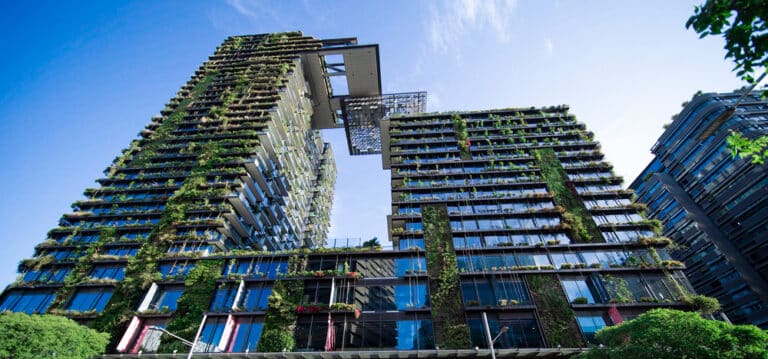 The 2023 GRESB benchmark for sustainable real estate confirms that Australia is developing and delivering the world's greenest buildings.
Green Building Council of Australia CEO, Davina Rooney said: "GRESB assessed more than $11 trillion in assets this year to confirm that some of the world's best practice in sustainable real estate is found here in Australia."
The Property Council of Australia's Chief Executive Officer, Mike Zorbas said: "This year's results show Australian property leaders play an international leadership role in building sustainability. It is heartening and necessary that we remain in the front rank of global innovation and performance in creating sustainable cities."
GRESB assessed AU$11.32 trillion (US$7.2tn) of gross asset value across 169,173 assets, 4,323 of those assets in Oceania. Oceania's 143 participating entities had a gross asset value of AU$635 billion (US$404 billion).
Oceania – which includes Australia, New Zealand and Pacific nations – was named the fastest growing region, with a 23% year-on-year increase in asset owners, fund managers and real estate development companies participating.
According to Ruben Langbroek, GRESB's Head of Asia Pacific, increased participation is "not just about numbers", but also reflects "commitment of the global and regional real asset sector to enhance transparency and sustainability on a broader scale".
Transparency "allows investors to reward those that are managing risks and delivering positive environmental and social outcomes, and apply pressure to those that are not," Mr Langbroek adds. "Importantly, sustainability benchmarking allows companies that are starting their green journey to identify and adopt these best practices, leading to enhanced performance, year after year."
The GRESB Development Benchmark – which assesses management and performance during the design and construction of new assets – increased to 91, up from 88 the previous year. The global average is 83. Asia placed second behind Oceania, with a score of 86.
"The story behind Oceania's leading score is simple. Green Star, which is used in both Australia and New Zealand, is doing the job it was designed to do. It is elevating expectations and challenging developers to design and deliver more sustainable buildings," Ms Rooney said.
A massive 93% of Oceania participants have established a net zero policy, followed by 78% in Asia and 77% in Europe.
Oceania posted a slight reduction in its regional score for the GRESB Standing Investments Benchmark, which assesses existing assets. This score of 79 in 2023 is lower than the 82 posted in 2022, but above the global average of 75.
"When we look at this result in the context of the 23% increase in participation rate in our region, this is not a surprise. We know measurement is the first step to
better management. Transparent reporting uncovers opportunities to uplift performance. Investment into upgrades will follow, and this will, with time, be reflected in GRESB results," Ms Rooney said.
"We know sustainability must be embedded into every part of the property and construction industry. Australia's leaders have played their role setting high sustainability standards and the rest of the market is now moving at speed. This is how we get sustainability at scale," Ms Rooney concluded.
GRESB Global Sector
Leaders – Oceania
Standing Investments Benchmark
Retail

Australian Prime Property Fund Retail

Lendlease

Retail

Lendlease Global Commercial Real Estate
Investment Trust

Lendlease Global Commercial Trust Management Pty
Ltd

Office

Brisbane Square Wholesale Fund (BSWF)

Charter Hall

Healthcare

Vital Healthcare Property Trust

Vital Healthcare Properties Management Limited
GRESB Global Sector
Leaders – Oceania
Development Benchmark
Office

Charter
Hall Prime Office Fund (CPOF)

Charter
Hall

Office

GPT
Wholesale Office Fund

The
GPT Group

Diversified
– Office/Industrial

ISPT
Core Fund

ISPT

Residential

Scape
Australia JV1

Scape
Australia Management

Residential

Scape
Australia JV2

Scape Australia
Management

Retail

Scentre
Group

Scentre
Group

Industrial

The
GPT Group

The
GPT Group

Healthcare

Vital
Healthcare Property Trust

Vital
Healthcare Properties Management Limited

Healthcare

Dexus
Healthcare Property Fund

Dexus
GRESB Regional Sector

Leaders
Standing Investments Benchmark
Diversified
– Office/Industrial

Australian
Core Enhanced Fund (ACE)

EG

Retail

Australian
Prime Property Fund Retail

Lendlease

Office

Brisbane
Square Wholesale Fund (BSWF)

Charter
Hall

Diversified
– Office/Retail

Cbus
Property

Cbus
Property

Diversified
– Office/Retail

Dexus
Wholesale Property Fund

Dexus

Industrial

Frasers
Property Industrial Australia Pty Limited

Frasers
Property Industrial Australia Pty Limited

Diversified
– Office/Industrial

Goodman
Australia Partnership (GAP)

Goodman
Group

Diversified
– Office/Industrial

Growthpoint
Properties Australia

Growthpoint

Diversified
– Office/Retail

ISPT
Core Fund

ISPT

Residential

Keyton
Trust (formerly Lendlease Retirement Living Trust)

Lendlease

Retail

Charter
Hall Retail REIT (CQR)

Charter
Hall
GRESB Regional Sector
Leaders
Development Benchmark
Office

Charter
Hall Prime Office Fund (CPOF)

Charter
Hall

Industrial

Dexus
Wholesale Property Fund

Dexus

Office

GPT
Wholesale Office Fund

The
GPT Group

Residential

Scape
Australia JV1

Scape
Australia Management

Residential

Scape
Australia JV2

Scape
Australia Management

Industrial

The
GPT Group

The
GPT Group