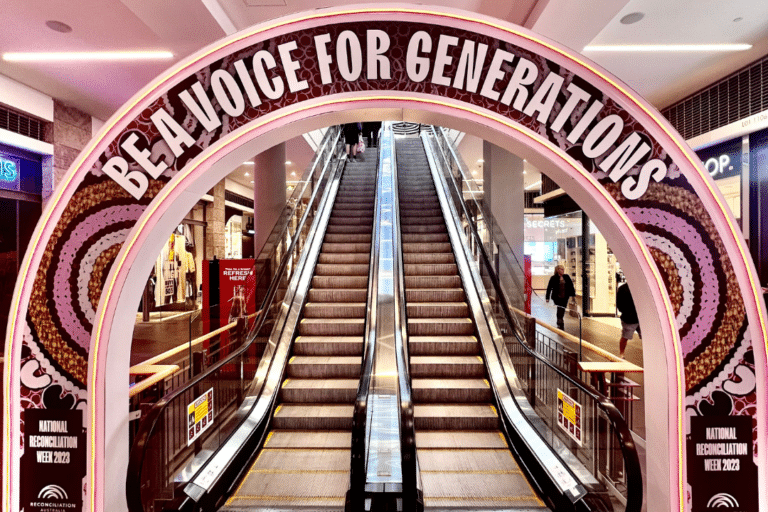 Property Council of Australia members, The GPT Group, share their efforts in engaging staff and visitors this Reconciliation Week, through educational activities and activations of GPT assets to showcase First Nations history and culture.
"As a leading Australian property company, GPT recognises its responsibilities to uphold human rights including their responsibilities to reconciliation – to Country, culture and community," GPT's National Social Sustainability Manager, Angela Crossland said.
"We have been formally committed to reconciliation through a Reconciliation Action Plan (RAP) since 2015 and are currently finalising our second Stretch RAP," Ms Crossland said.
"We work with First Nations partners across Australia to help embed our RAP commitments in our business practices, and this includes hosting learning campaigns and activities with our people and our customers."
For National Reconciliation Week, GPT collaborated with Aunty Denise Proud to create "Voices for Generations", a representation of the 2023 National Reconciliation Week theme, "Be a Voice for Generations". The artwork is being displayed nationally across GPT's retail assets, in centre and across digital content.
"Aunty Denise Proud is one of many Elders and community members who support us with our reconciliation actions, and her leadership and story are an important reminder of the role we have as individuals and organisations in advancing socioeconomic outcomes for First Nations peoples," Ms Crossland said.
"Through our assets we have the opportunities to engage and connect with tens of millions of Australians every year, and National Reconciliation Week is an important way we can take part in collective action to foster respect, equity and inclusion in the communities where we operate.
"We are also focused on the role the property industry plays in embedding First Nations voices in placemaking, as these are opportunities for truth-telling and co-design with community," Ms Crossland concluded.
Educational activations at retail centres will also draw from this year's National Reconciliation Week theme, encouraging all Australians to be a voice for reconciliation in tangible ways. In Sydney, Rouse Hill Town Centre is inviting visitors to be immersed in Aboriginal Culture through its First Nation Craft Workshops and Cooee Mittigar Book Reading.
GPT is hosting a range of internal events for employees, providing the opportunity to hear from First Nations people across Australia as they share their views on the Voice referendum and engage in an educational Q&A and discussion.
Over in WA, retail shopping centre Karrinyup is a focal point for GPT. In collaboration with local Whadjuk artist, Justin Martin, a unique series of staff uniform elements have been launched. New scarves and pocket squares are designed from the artwork "Kura Careinup", meaning the place where yongas (kangaroos) graze.
His art creation for Karrinyup is a vivid description of the land using colours blues and turquoise for the coastline and greens and yellows for the lake lands. The vision for the project was to create artwork that reflects the traditional values of the area with interactive and eye catching colours. Mirror sheet metal in the artwork represents the glisten of the summer sun and reveals viewer reflections inside the art, allowing them to feel a connection to the land.