Thursday 13 July 2023 
MEDIA RELEASE
Uncapped Working from Home – A Death Knell for the Adelaide CBD
The Property Council of Australia today warned the State Government from following the Commonwealth in permitting uncapped working from home for State Government employees.
Tuesday's agreement between The Community and Public Sector Union and the Australian Public Service Commission means up to 10,000 Commonwealth employees in Adelaide never have to go to the office again.
South Australian Executive Director, Mr. Bruce Djite said that the State Government should pause to consider the implications of State Government departments also taking this path.
"This would be a death knell for Adelaide," Mr Djite said.
"A CBD without people is not a city at all, but rather a ghost town.
"Any State Government who had the long-term interests of Adelaide would be very unwise to endorse a similar move here.
"Given the high proportion of Government employees in Adelaide, it would shatter small businesses and employment, disincentivise investment and weaken payroll tax revenue."
"The State Government needs to ask itself whether it is prepared for its legacy to have elevated Adelaide's CBD, investment attractiveness and cultural vibrancy or to have permanently undermined it", he said.
The latest figures from the ANZ/Property Council Confidence Index Survey showed that despite price growth expectations being better than the rest of the country, in contrast to other asset classes, office capital growth rate expectations remain in negative territory in South Australia with the persistence of the working-from-home trend.
Asset class
South Australia

June 2023 Price Growth Expectations – Quarter Results

South Australia

March 2023 Price Growth Expectations – Quarter Results

Residential
39.6
5.6
Office
-4.2
-10.3
Industrial
27.2
4.4
Hotels
40.3
9.1
Retirement Living
49.3
30.9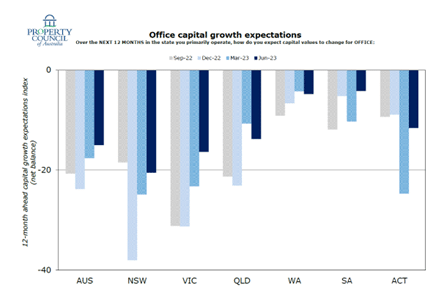 Media contact: Richard Fowler | 0402 659 892 | [email protected]