Tuesday 8 August 2023 
MEDIA RELEASE
A is for Adelaide – Office Market Report reveals strong demand for quality office space
Adelaide has experienced a surge in demand for high quality A grade office space, according to the Property Council's July 2023 Office Market Report.
In the six months to July, net demand for A grade office space in Adelaide grew by almost 20,000 square metres, as major projects continue to drive strong supply levels, providing fresh and enticing office accommodation options.
Factoring in both above average levels of supply and demand, Adelaide's office vacancy rate has grown in the six months to July from 16.1 per cent to 17 per cent.
Property Council South Australian Executive Director Mr Bruce Djite said the market is voting with its feet as the office sector evolves and offers compelling reasons for employees to ditch their tracksuits and work in the office again.
"It is encouraging to see that Adelaide's skyline is being renewed before our eyes with attractive, high quality office space that is in high demand," Mr Djite said.
"With unemployment hovering at multi-decade lows and strong competition for talent, companies are adjusting their leasing strategies and seeking high quality space.
"The office continues to provide a fit-for-purpose built environment solution for companies to create collaborative, enterprising and innovative workforces that contribute to our community and economy.
"This is why the Property Council has strongly advocated for the state government not to emulate the Commonwealth in permitting uncapped working from home for its employees, given the high proportion of state government tenants in the Adelaide office market," he said.
Key findings in the July 2023 Office Market Report for Adelaide include:
Vacancy in Adelaide increased from 16.1 per cent to 17.0 per cent
Net demand in Adelaide is 14,270 square metres – almost three times the historical average
Demand is concentrated in A grade (19,764 metres) – almost 4.5 times the historical average
Demand in C & D grade increased over the period (but remained negative)
Net supply rate (2.2 per cent) is outpacing demand rate (one per cent)
There is strong above historical average future supply up to and including 2024.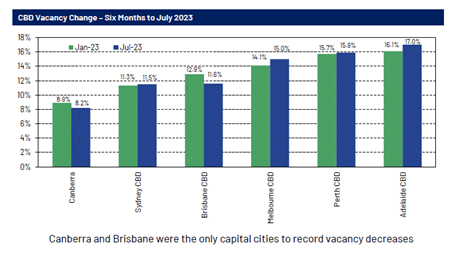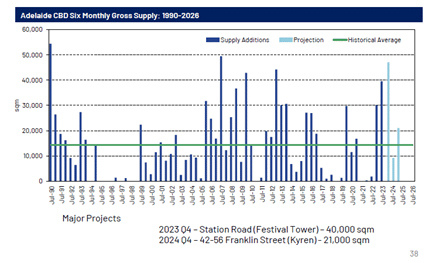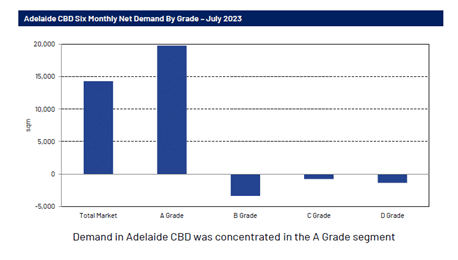 Media contact: Richard Fowler | 0402 659 892 | [email protected]