ESG in the Property Sector

ESG in the Property Sector
14 February 2024 @ 08:30

-

15:30

AEDT

$510.00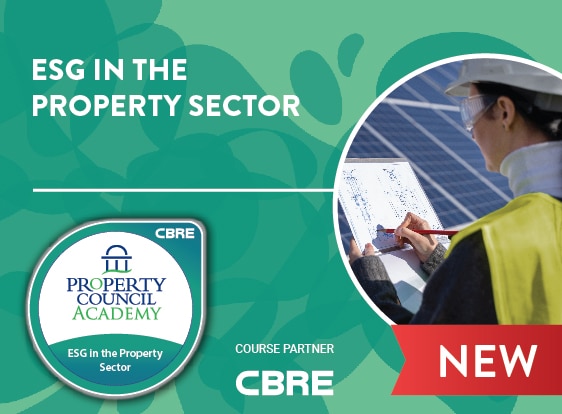 Environmental, Social, Governance (ESG) is increasingly front-of-mind for communities, investors and leading property organisations. As Australia's largest employer and biggest industry, the Property Sector is well positioned to use its influence to address social issues and drive sustainable outcomes.
The Property Council Academy's newest short course will examine ESG performance and social responsibility and discuss methods used to measure and address ESG related risk.
This half-day course will provide the latest insights from industry leaders and discuss critical issues such as:
• ESG in the property sector and why it matters
• Energy performance in the built environment and progress to achieving net zero
• Emerging mega trends such as the circular economy, modern slavery, sustainable finance, and climate resilience and how we measure social impact.
• ESG as a real estate value driver
This course will cover the following topics:
ESG in the Property Sector
o Introduction to ESG
o Why ESG matters in the Property Sector
o The current state of ESG in the Property Sector.
Achieving Net Zero
o Energy performance in the built environment
o The importance of measuring and disclosing performance (NABERS or Green Star case study)
o The road to decarbonising the built environment

Removing fossil fuels & Electrification
Addressing embodied carbon
Offsetting.

Circular Economy
o The emergence of a megatrend
o Applying circular economy principles to the property sector
o Shifting to a regenerative built environment.
Social Sustainability
o A common language for social sustainability
o Applying social sustainability to the property sector
o Addressing modern slavery
o Measuring social impact.
Sustainable Finance
o The importance of engaging the finance sector
o Applying sustainable finance to the property sector
o The outlook for sustainable finance.
Climate Resilience
o Physical resilience in a changing climate
o Transition risk and exposures.
Who Should Attend:
Industry members who are:
Procurement managers
Sustainability and reporting managers
Development managers
Project managers.
Registrations close 1 February 2024.